College and university courses are costlier than ever, making it difficult for many to afford the tuition required. But the internet has changed the game, with many institutions sharing courses online for free through open learning initiatives.
While most of these free courses don't offer credit or certificates, they are a great way for you to expand your knowledge and keep up-to-date with your industry. Then, there's the benefit of being able to learn anywhere, anytime, and at your own pace.
Interested in accessing free college-level courses? Here are some of the best sites to take free college courses online.

EdX is one of the largest massive open online course providers in the world, giving over 14 million users access to free courses from universities around the world. Originally founded by Harvard University and Massachusetts Institute of Technology (MIT), the site now includes courses from the likes of Boston University, Caltech, and dozens of other prestigious universities from around the world.
You can study courses in a wide range of fields on the website—including science, education, history, medicine, and more. There is also a wide range of free computer programming courses available.
While the courses are free, verified certificates and degrees are not. EdX offers certification and online master's degrees on the website, but these require users to pay fees or tuition.
Massachusetts Institute of Technology (MIT) was a pioneer in offering online college courses. The university offers you the ability to download and follow their archived courses through their OpenCourseware platform. For example, MIT OpenCourseware offers a free course on interior design
The benefit of using the platform is that you get access to a huge range of actual courses that the university has offered over the years. The downside is that you may still need to purchase textbooks to follow the curricula.
The website also doesn't offer accreditation or certification, since these are archived courses. But they are a useful resource if you want to expand your knowledge on certain subjects.

Carnegie Mellon University provides free online courses for anyone wishing to access them. In fact, it even offers materials for instructors who wish to teach their students these courses.
For independent learners, there are short courses on topics such as computer science, biology, psychology, and more. The downside is that the number of open courses is much more limited than many other open learning websites.
Carnegie Mellon's open courses are similar to what a paying student would receive minus the course credit or access to an instructor.
Coursera is another online learning platform through which many universities and companies offer their open courses. Like many of the other course providers on the list, you can access courses for free, but you won't receive accreditation or a certificate without a fee.
Nevertheless, the site provides a great platform for online learning. Major universities such as Duke and Columbia offer courses on the platform. Meanwhile, you can also access online courses from Google and companies such as Intel or Amazon.
If you wish to access the certification and specialization features on the platform, there is a monthly subscription that Coursera users can access. However, all individual courses are available to view for free if you choose the audit option. This gives you access to all the material and lectures in the course, minus a certificate or accreditation.
Stanford Online is the website through which Stanford University offers all its online courses. While you would have to pay tuition to complete a certificate or degree through the platform, the university's open learning courses are available to anyone for free. This includes courses offered by the different university schools, such as Stanford School of Medicine and Stanford Business School.
These open courses are particularly useful for those looking for Continuing Medical Education (CME) credits, which can be earned by completing certain courses on the website without needing to spend a cent.
FutureLearn is another platform that offers courses from universities and organizations around the world. Like the other open learning platforms, courses are available for free but certificates require a fee.
The website has an impressive range of courses across different fields, as well as various courses aimed at improving life skills. For example, FutureLearn has courses dedicated to improving your budgeting skills, online research skills, critical thinking, and job interview skills.
The platform is a great tool for those looking to expand both their academic knowledge and useful everyday skills.
The OpenLearn platform offers content from The Open University. This university pledges to be open, offering the opportunity to learn for free to as many people as possible. While the university has physical classrooms based in the UK, it has also opened its content to anyone online through its OpenLearn website.
The online college courses are laid out extremely well and offer many different topics. A great feature is that it offers courses for differing skill and knowledge levels, from beginners to experts.
Once you have completed a course, you can receive a statement of participation to show potential employers. While this does not count towards university credits, it provides evidence that you have successfully completed courses from The Open University.
If you're interested in courses from Harvard University, the institution offers many through its online portal. While some of these courses are paid, there are dozens that are also available for free.
Some of the university's free courses include religious studies, game development, app development, and data science. When you filter according to free courses, at least 71 are available on Harvard Online, so look at which ones might interest you.
Partnering with many post-secondary schools, Khan Academy offers a useable, well organized interface. Also curating many courses from around the web, Khan Academy offers impressive depth on many different subjects. The lectures are short and share a handful of information at a time, but build on each other as you progress.
Udemy is an online institution that offers courses taught by leading experts. Udemy's free courses are similar in concept to Coursera's but additionally allows users to build custom courses from lessons. Working with many top professors and schools, the site mixes the customizable platform of other sites with a heavy emphasis on top quality content. This is another site however, that mixes free and paid content.
A very convenient place for free online education is iTunesU, because it integrates seamlessly with your iPod, or any app-ready Apple mobile device. On iPad, iPhone, or iPod touch, users download the iTunesU app. The tool offers online courses with full lectures, the ability to take notes on those lectures and assignments to continue learning outside of the lecture environment. However, courses are often a mix of free podcasts or videos, and paid content.
Codecademy is a website dedicated specifically to teaching coding. Codecademy teaches you how to write the code necessary to develop interactive websites using the most useful languages – HTML, CSS, JavaScript, jQuery, Python, Ruby, and PHP – and does it within the browser using interactive tools.
Codecademy features a centralized dashboard where you can monitor your progress, plus organizes lessons into complete modules. This lets you learn an entire language without needing to pick the next course manually.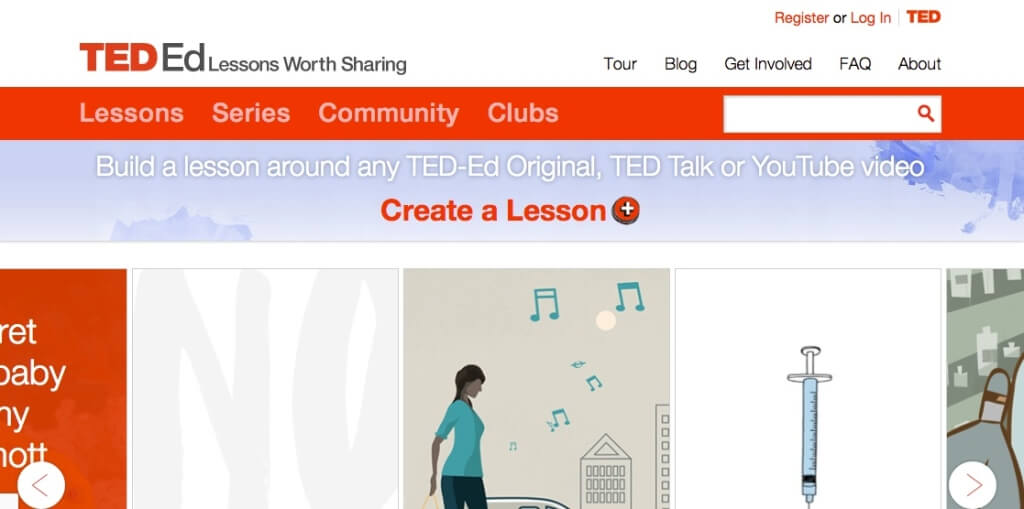 Another great destination for more general learning is TED-Ed. From the same people that brought you the motivational web series, comes a site chocked full of educational videos. Most include impressive animation, and all are ten minutes long or less.
Not only is TED-Ed an excellent site for the curious, it also includes supplemental materials and quizzes on the videos. This makes the site extremely useful in formal education settings, as well as in entertaining ways to brush up on new discoveries and topics.
If you are struggling to find exactly the material you are looking for, try Open Culture's listing of free online education courses. The page highlights 1000 lectures, videos and podcasts from universities around the world. The site features a lot of material found only on universities private sites, all in easy to browse categories.
This means you can find hundreds of university courses, without having to visit and search each university's own site. A very helpful resource for finding many courses in one area of study.